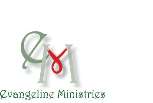 "O give thanks to the Lord for He is good and His lovingkindness is everlasting!" (Psalm: 106:1)
November 2017                                                                                                       Cape Town, South Africa
Dear Evangeline Friends:
This is a very special and precious time of the year as we pause to give thanks to God and
to each other! In just about two weeks the July-December 2017 class will graduate. Twentyfour
women and men will celebrate a journey of learning, made possible by the grace and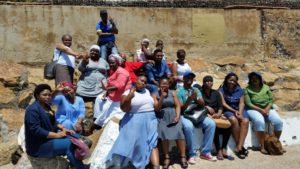 lovingkindness of the Lord and by you who so loving support us. We give thanks to God for His
love and mercy, for the special students God sends our way and for you whose hearts are open to
help give disadvantaged students hope and a future in Jesus Christ!!
Recently we took our graduating class to the local Fish Hoek beach. It was such fun, but more
than that, it was an opportunity for the entire student body to get to know each other better. It
was also a time for many of them to confront their fear of the water. For almost all, it was the
first experience they had to sit down in a restaurant for a meal. This was a time for them to
expand their horizon, knowing that: "with God," (for them who lack so much, but who have
the highest hopes,) "all things are possible." (Mark 10.27)
Beach Day also helped me to learn some more about the students. One told me how she almost
lost her life after she was stabbed thirteen times. She survived two weeks in the hospital and
then God sent her to us! Another student enthusiastically told me how much she now loves her
Bible. "I read it every chance I get," she said
"First the blade, then the head, then the mature grain in the head." (Mark 4:28)
So often, and rightly so, I am asked about the progress of Evangeline Graduates. Do they have
their own business? Are they making a living?
I am so thankful to say that, not only are they doing those things but they are also helping to
make their communities better places.
Last month in our church in Fish Hoek the young people led us in a lively, dramatic and
most satisfying service of morning worship. In one special feature, the young women danced to
the Lord. As I was leaving church, our 2016 graduate Faith, who I see every Sunday, ran to meet me.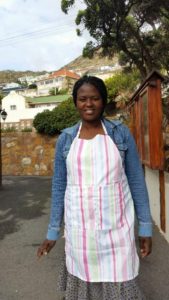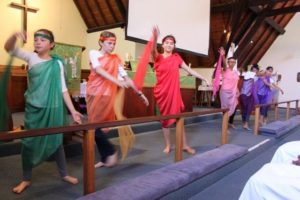 "Wendy,
"she said, "I
made all the
costumes for
the dancers
and for the
children who
were dressed
as different
animals.
Words fail
me to
express what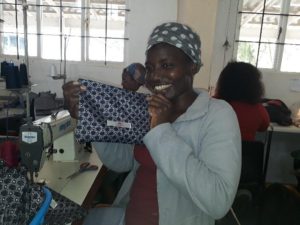 that Evangeline Board
Chairperson, Audra Ryan-Jones, has just
started an online South African products
business that is bringing new income to
some of the Evangeline graduates. The
jewelry bags for the orders are sewn by
three graduates working in the Sewing Café,
a follow up enterprise, that grew out of
Evangeline. With this new income, the
ladies are delighted. They sew with joy and
they and their families benefit greatly with
steady and yes, fun employment.
The growth and growing maturity of Evangeline Ministries is not only seen among the students
but in all of us who teach. Soon after we began in 2006, God impressed us that we were to do
more and teach the students Basic Computer skills. We
bravely began with sub-standard and out dated equipment (by
Western standards) but it was enough to get us going in
obedience to the Lord. Our first teacher was Siphokazi. She had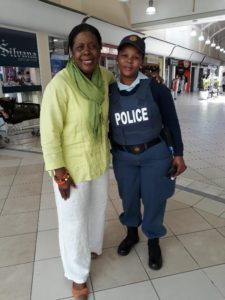 just come from the Eastern Cape and was looking for a job. We at
EM needed help and she needed a job and we came together. She
was a strong leader and did well. I remember the trip I took with
her on the bus all night to the Eastern Cape so she could see her
son. Not being able to see him had so depressed her and that visit
turned that around. Siphokazi worked with us for two years and
then enrolled as a Police Officer. When I met her in the mall
recently she said: "I will never forget you and Evangeline
Ministries. You gave me my first chance, you brought the life
and the light. You helped me to stand on my own two feet. You gave me hope!
This is also true of each of our current teachers who are
making wonderful strides in education and in securing new
opportunities to increase their teaching influence and at the same time earn more income. Noloyiso, our
Computer Assistant now plans to study to become a teacher. "I never dreamed I could teach," she said, "now that is what I want to be."
Growing Together
Almost thirteen years ago, Evangeline Ministries began its work, helping women with HIV and Aids find
new hope in Jesus Christ. Over the years we have trained more than 600 women and men in sewing,
computer and English skills. The teachers and I have grown and matured together. We are committed
to continue to strengthen our program and "to grow in grace and the knowledge of our Lord, together.
We thank God for our partnership with the Masiphumelele Corporation and Trust which contributes
significantly to our work. Yes, we give thanks to the Lord, for He is good and His mercies last forever!
We Thank God for you!
We thank God, every time we remember you, dear Evangeline friends. We ask you to continue to support
us with your love, prayer and financial gifts.
Sincerely in Christ
Wendy
Wendy Ryan
Evangeline Ministries, 5501 Merchants View Sq#277, Haymarket, VA 20169 Wendyr548@gmail.com;
www.evangelineministries.org; Follow me on Facebook!